Ever since the left was able to start the anti-western neo-marxist, anti-male feminist, postmodern, anti-science propaganda, 'enough' women have defected to the left in favor of leftist magical thinking, to allow the left to incrementally win 'enough' to destroy our civilization.
The (crap) data I'm seeing suggests they were able to use the mail-in vote process to include illegals, felons, repeats, the dead, and 'more' on the one hand, and Trump lost his 'evangelical hard right' base, as well as some young urban white males.And: WHITE WOMEN DEFECT always.
Women were the weak spot in Rome. They have always been the weak spot for religions. They are the weak spot for neo-marxist, postmodern, hbd-science-denial,and the weak spot for magical thinking. And the university system is designed entirely to promote magical thinking in women.
Data is Data is Data. Only white women defect in meaningful numbers from the group. Why? European empirical thought is the world's LEAST tolerant of magical thinking, and European science, economics, law,and arts, until the postwar, was the most correspondent with laws of nature.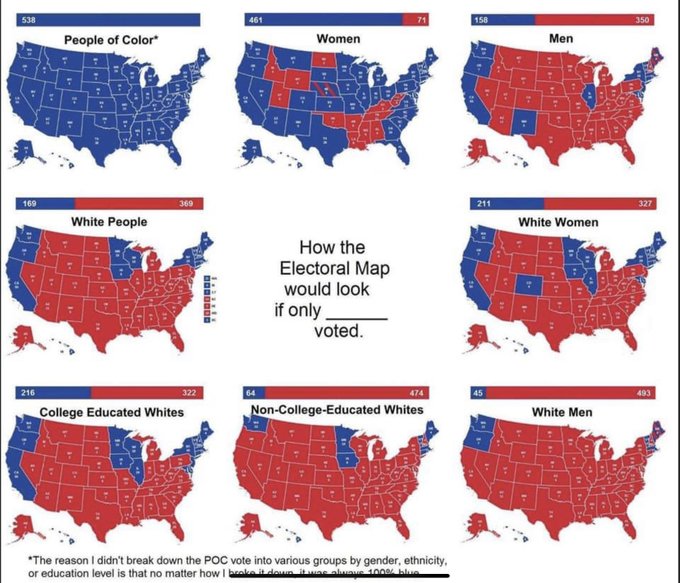 The left's methods of selling Magical Thinking were modified from a supernatural cult using social construction by sophistry and repetition, to a pseudoscientific cult using social construction by sophistry and repetition. And as is traditional, large numbers of white women fell.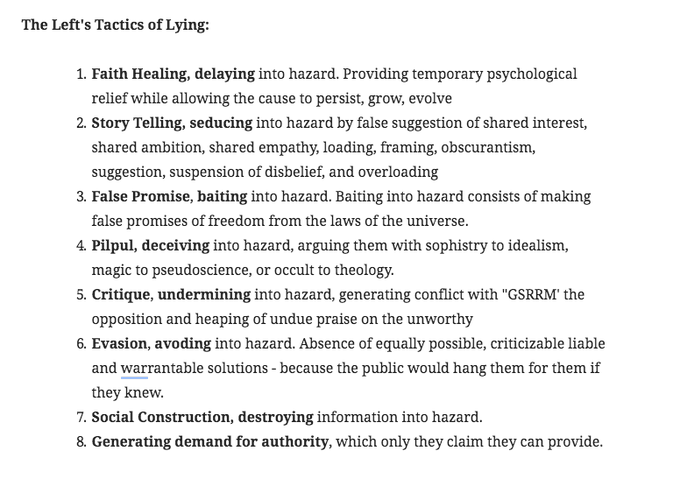 Every one of these techniques, whether sold as oppression myth by Judaism, Christianity, or Islam in the ancient world, or marxism, neo-marxism, postmodernism, anti-male feminism, and HBD Denial in the modern world, makes the same false promises to 'bait the weak into hazard'.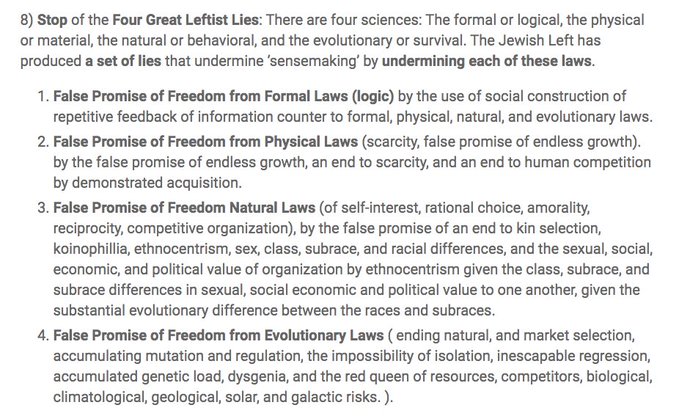 The strategy of undermining invented by Jews and applied by Christians, Muslims, and the 19th-20th pseudoscientists and sophists, is intuitive to women precisely because it is the same instinct women use to manipulate children, war against other women, and undermine men.
This strategy relies on social construction of false hoods (that's postmodernism), using propaganda (disapproval, gossiping rallying shaming and undermining) in the absence of arguments that if stated would be counter to the laws of the universe. Chinese vs Women/Jews/Muslims:

Unfortunately, there are only two groups of thought leaders in the world surviving – the Europeans and the Ashkenazi. The difference is that our strategies are polar opposites. The european is capitalizing and eugenic, and the Ashkenazi is hyper consumptive and dysgenic.
And to some degree this battle has been going on since the Greeks crossed the Bosphorus and brought reason into the middle east and threatened the entirety of their dysgenic social, economic, and political system.
And Jews + Christians = Dark Age + Islam = 5 dead civilizations.
The battle of the sexes can only be solved whether at the interpersonal level, the political level or the civilizational level by either separation or reciprocity. The left cannot tolerate separation – they depend on parasitism and dysgenia. The right cannot tolerate otherwise.